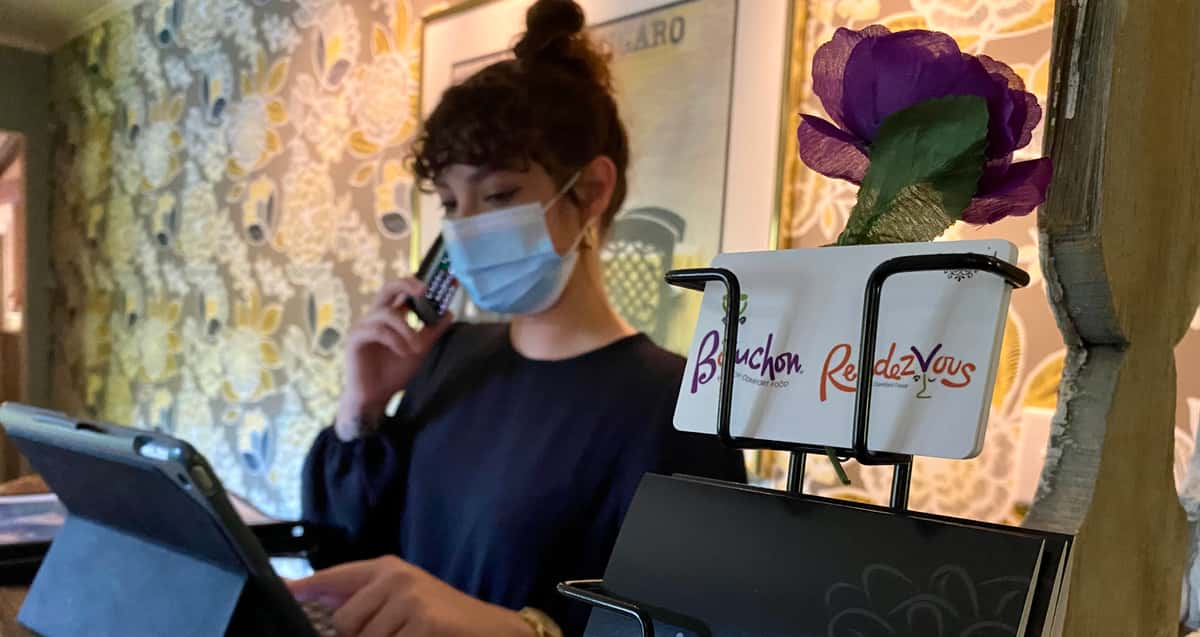 Reservations
Here at RendezVous we take reservations and walk-ins, but reservations are

strongly

encouraged.
---
Book now with Resy!
Book your RendezVous reservation on Resy
-
To reserve a table you can now book online using Resy!
For larger parties of more than 5 people, call 828.348.0909 to speak to the reservationist. Interested in hosting an event at our location? Learn more!
Please note that our host will do everything in their power to accommodate your table request, but as humans are an unpredictable species, we may have to seat you elsewhere to avoid you waiting for a long time for your specific table.
If you absolutely MUST be at a specific table, please include that in the notes section of your reservation; for instance, if you want to bring a furry friend along, or want that special table inside by the garden doors, etc.
Any seating labeled "High-Tops" is indeed a seat in our annex dining room/bar and is at one of our high-top tables, or at the bar itself. There are no low-top tables in the bar.
We will allow a courtesy 15 minutes from your reservation time until we give away your table. If you're running late, please call us at 828.348.0909.
We take credit cards to secure your reservation. If you are a no-call/no-show we charge your card $25 per person. We do understand things come up, so please call us by 5:00pm the day of to cancel your reservation.
---
Dining Outside
All our seating outdoors is covered. You can choose a table in our covered "barn" or along the side of our building under the awning. We do have heaters in all areas of outdoor dining, and large fans installed in the barn, but we can't control the weather - we'll do our best to accommodate your party.
**if you've requested to dine outdoors, please come prepared, as we may not have the ability to move your reservation inside after you arrive.
---
Speak to Our Host
Our reservationist is here for you starting at 3:30pm Tuesday - Saturday. If no one is available, please leave a message with your name, phone number, how many are in your party, your desired date and time, and we will get back to you as soon as possible to confirm. Messages are checked as often as possible. Please allow 24-hours to return your call Tuesday-Saturday, and note that we are closed on Sunday and Monday and those messages will be checked on Tuesday.
Please know that we will do our best to accommodate your call requests during business hours, but our host may be busy assisting customers at the door, and again will call you back as soon as able to confirm your reservation request.